EndeavourOS Linux Black Theme KDE-Plasma Review May 2023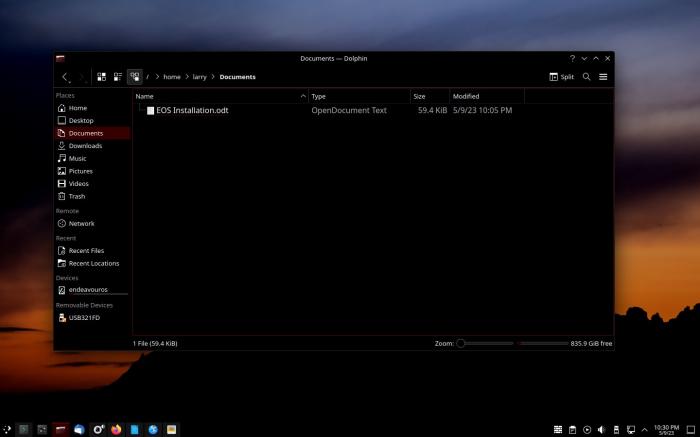 EndeavourOS Linux KDE-Plasma Desktop Screenshot with the Dolphin File Manager and a Black Theme
Copyright ©2023 - May 19, 2023
---
Quick Overview
Offering eight desktops — Budgie, Cinnamon, GNOME, i3, KDE Plasma, LXQt, MATE, and Xfce — EndeavourOS' website accurately speaks of itself as "A terminal-centric distro with a vibrant and friendly community at its core". Although EndeavourOS is very easy to install and configure, EndeavourOS is best suited for users who are experienced with the Linux terminal, or who are willing to learn.
One of the advantages of EndeavourOS is that it is based on Arch Linux with its rolling releases. In years past I had a deep fondness for Arch Labs, and I frequently used the Arch-based Manjaro for myself and customers. For me, any distro related to Arch gets my attention.
Several days ago I noticed that EndeavourOS was gaining popularity, so I decided to give its KDE a try. The primary reason I chose to test EndeavourOS was to experiment with the desktop theming, to determine how well I might be able to configure a desktop that is comfortable for my own tastes. Though for years I have tinkered with themes on numerous variations of desktop environments, aside from a Windows® 8.1 dark mode theme that I had configured, and the Solus Budgie being darn good, no other DE had approached close to what I was aiming for.
First Impressions
At first, I didn't see anything much different from most other Plasma distros except for there being no normal software manager, but that was expected with EndeavourOS favoring terminal commands. Since I hadn't planned to install much more than Libre Office and Gthumb, doing terminal installations was no big deal. Nevertheless, I was pleased to see the EndeavourOS Quick Start installer which made a few installations easy while I focused on configurations.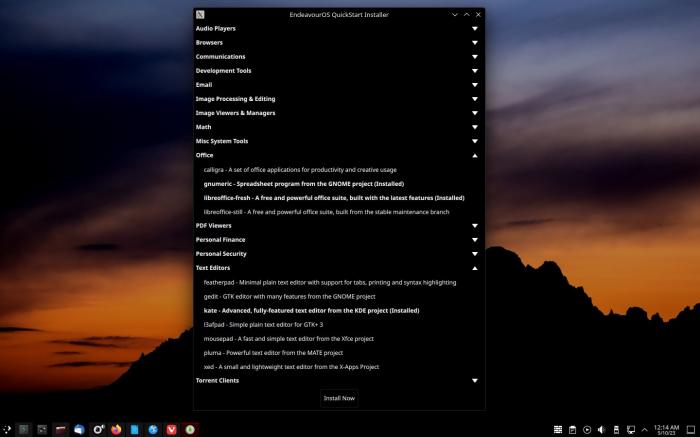 EndeavourOS Quick Start Software Installer
For my own personal preferences, OS stability is #1, then followed by aesthetics. One big advantage of KDE-Plasma is the ability to easily change the theme's colors, styles, and decorations. Depending on how may different options the user might want to experiment with in the Systems Settings, creating a new theme color only takes about one to five minutes.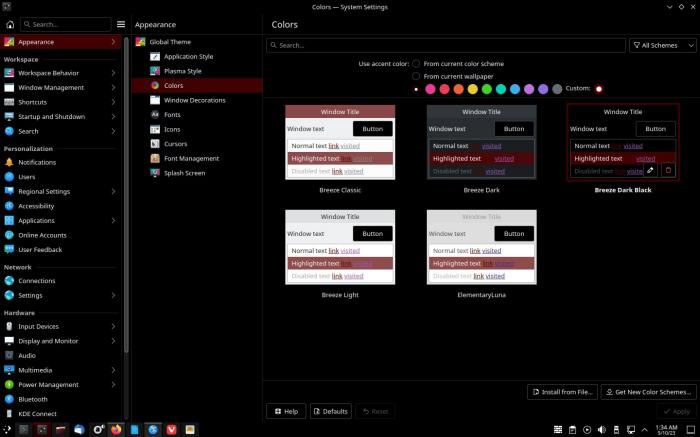 EndeavourOS System Settings
To create your own color scheme, simply click on the theme that is closest to the colors you want, and then click the pencil icon to open the theme editor. From there, choose your new colors, and then save the new theme with a new name. Done! It's that easy!
Upon having edited and saved a theme variant, and finding that I liked it, I then began testing EndeavourOS' stability and function.
Gnumeric, Libre Office, Thunderbird, Gthumb, Kate, and everything else installed and functioned fine. The black theme also made the programs easier for me to use (no glaring whites and borders to distract, nor any depressing grays). Upon seeing that the initial black theme was very close to what I was wanting, I spent two full days doing system-wide configurations.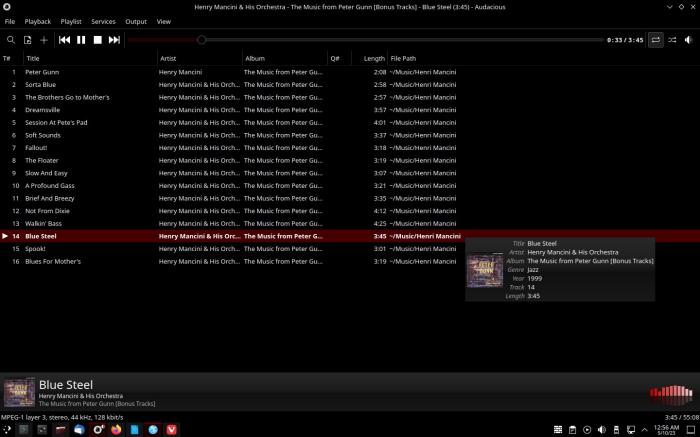 EndeavourOS with the Audacious Music Player
Audacious looks similar to the preferred MusicBee theme that I use on a different computer. Audacious also has the 'Extra Stereo' effect, which enables the playback to sound more like WOW/SRS. Cool.
One of the tests has been to use the Kate editor while creating this article. After setting the text colors to be near to my preferences, I discovered that Kate is likely the best editor for Linux. Yep, Kate's going to get used a lot now.
My unfamiliarity with KDE and the KWallet caused me a long pause while trying to setup KMail, but I might have gotten it working smoothly now. In the near future I may go ahead and give KMail a thorough testing, but for the moment Thunderbird is fine for email.
All other known software worked fine in EndeavourOS.
EndeavourOS with the Gthumb Image Viewer/Editor
Keyboard volume control! Almost as important to me as the music player itself!
EndeavourOS Keyboard Volume Control
Sum
Everyone has different tastes of aesthetics, and one of the huge advantages of Linux is that most everyone is able to find a distribution and desktop theme that is aesthetically pleasing to themselves. One of KDE's strong advantages is the ability for the user to very easily configure their desktop to meet their own personal preferences. For those of us who prefer to change the colors of themes without having to fuss with fussy configurations, KDE is worthy of a close inspection.
Now, what about the EndeavourOS itself? Well, I generally didn't even notice that it was there: no glitches, no crashes, no cringing oddities, nothing, EndeavourOS simply did it's job, and that's a good thing. The testing period has been less than a week so far, so I may find the inevitable booboos in the weeks to come, but as it stands right now, EndeavourOS is a prize, especially with the black KDE theme.
A common question is for individuals to ask if a Linux distro is suitable for beginners. The answer, of course, depends on the individual. If an individual is accustomed to using any other operating system, and the individual is willing to exert a little effort to learn a few commands, then I don't see why EndeavourOS wouldn't be a good choice for beginners. My recommendation is to download EndeavourOS and give it a try; you might find it to be much easier than it sounds.
(Screenshots' wallpaper is by Marek Piwnicki on Unsplash.com)