Linux Mint 21.2 XFCE Review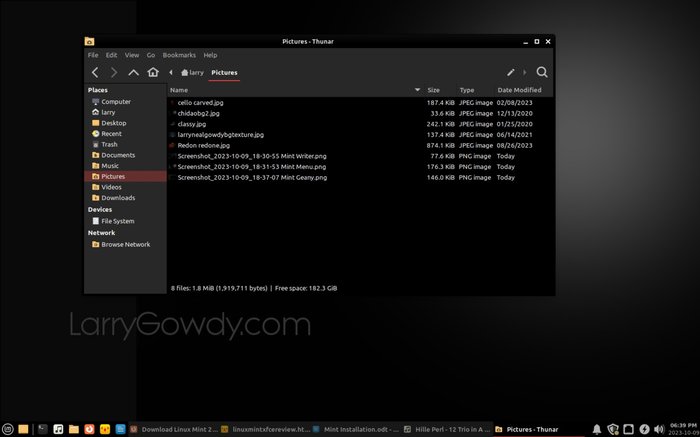 Linux Mint XFCE with Thunar - I Love Dark Themes!
Copyright ©2023 October 11, 2023
---
ADVANTAGES: Very stable, software tends to function better in Mint XFCE than in other Linux distros, easy to use, it is easily configured for themes, and Mint XFCE is a very good choice for people who are new to Linux.
DISADVANTAGES: None known.
The three things that I value most in an operating system are [1] stability, [2] useful software, and [3] a dark theme. Mint XFCE has all three.
All Linux distros have their advantages and disadvantages, but Mint's XFCE has no disadvantages for my own personal needs.
For several years XFCE has been my favorite version of Linux Mint, primarily because it's solid, it usually never has any glitches, and it's more in-tune with my preferences of function rather than having the glitch-prone 'new and improved' features of some other desktop environments. For years I have been using Mint XFCE in the living room for streaming Korean dramas and playing MP4s, and not once have I had a problem with Mint. For me, Mint XFCE has proven of itself to be one of the topmost (if not the topmost) dependable Linux distros available.
Quick Background
Years back, the living room PC had a Windows® 8.1 operating system that was horrible of audio and video quality, as well as being undependable. Inserting a Mint XFCE into the PC remedied all of the problems. Several days ago, on a different computer I spent over two days installing a fresh setup of Windows 8.1 after Windows 8.1 had trashed itself. The next day, Windows 8.1 did it again, while also trashing three hard drives simultaneously, one of which was a major backup for files. For almost ten years I'd been looking for a good excuse to never ever again use any Windows online, and the latest 'it dunnit it again!' was a big convincer that the time had finally arrived to give-up on Windows.
Since Mint XFCE had proven to work well for my needs on the living room PC, I decided to give it a try on my personal online computer. Months ago I had searched for black XFCE themes online, so I already had an idea of what was available. I installed the Bazik XFCE Theme and then modified the config file for darker colors. The current result is superb, leaving only a couple small details to later iron-out. I am extremely happy with XFCE's theme now.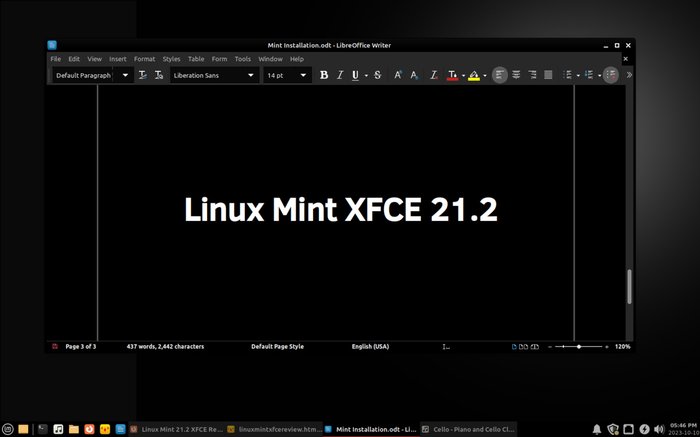 Linux Mint XFCE with Writer
An oddity is that programs like LibreOffice's Writer are a little buggy in the several other distros that I have used over the past few years, but in Mint's XFCE it works fine (i.e. double-clicking on the white space in-between pages has no effect in some distros, but works as intended in Mint's XFCE). To date, all of the games and editors that I have installed work better in Mint XFCE than in any other known distro.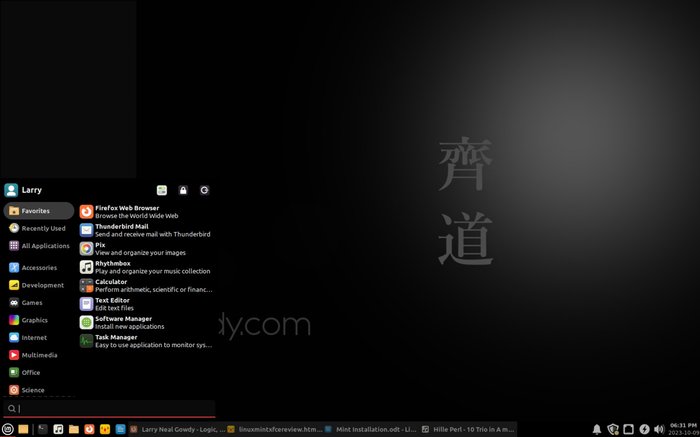 Linux Mint XFCE Menu
The Mint XFCE menu is solid; it functions as intended, which cannot be said for some distros (as well as for anything Windows 8, 10, 11+).
Linux Mint XFCE Keyboard Volume Control
Since I normally always have music playing while I work on a computer, a strongly appreciated advantage of Mint XFCE is the ability to easily configure a keyboard volume control. Sweet!
The page at How do I set a custom keyboard shortcut to control volume? has an excellent set of instructions for configuring a keyboard volume control.
Linux Mint XFCE Software Installer
One advantage of Linux is software like InkScape. InkScape's layout and function are much like CorelDraw®, which makes it a big plus to those of us who are accustomed to using Windows graphics software. Between InkScape and GIMP, there is pretty much nothing that Linux can't do for graphics.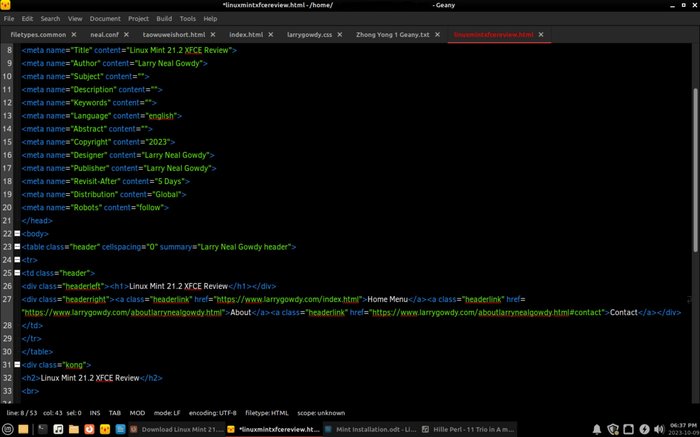 Linux Mint XFCE Geany Editor
Super important for me is the Geany editor. Bluefish and Notepadqq have their good points, but Geany is always my first choice for an editor in Linux. Geany is another one of the programs that functions better in Mint XFCE than in other known distros.
Linux Mint XFCE Gnumeric Spreadsheet
As mentioned previously in the Gnumeric Spreadsheet Review, Gnumeric is a super good spreadsheet that is superior to all other known spreadsheets regardless of operating system. LibreOffice's Calc is pretty good for basic needs, but when the data gets large and complex, Gnumeric is the one to rely on for speed and accuracy. And again, Gnumeric is yet another one of the programs that functions better in Mint's XFCE than in other known distros.
Visit the Gnumeric website for more info, and then install it from the Mint repository; it's really good stuff!
The Really Big Big'ns
For myself, emails and online business accounts are the primary necessities of having an online computer. Since Firefox and Thunderbird will reportedly end support for Windows 7 and 8.1 in September of 2024 (Microsoft® has already forced Outlook® to no longer be usable for Microsoft email accounts), and since there are no known suitable substitutes for either, and since Windows 10-11 are permanently unacceptable, then the only known option is to fully switch to Linux for all online needs. That decision was easy.
The difficult part is that I enjoy translating ancient Chinese texts, which requires online access to sites that have graphics of ancient oracle and bronze scripts, where I can see how Chinese words were written during the same era that the ancient Chinese texts were written. Organizing the ancient texts requires editors that can be viewed in split screens. Geany is able to be viewed with a split screen, and Writer permits a second window that has the same document, but the stability of Geany and Writer had been so poor in other Linux operating systems that it was agonizing to attempt to do any text work on Linux. But now, with Mint XFCE, Geany and Writer function fine, and I have found myself to be very comfortable using them.
Another difficult part is that coding websites is intensely easier with an editor that is stable and functions crisply (i.e. NotePad++ in Windows). In some Linux distros, Geany was unstable, prone to having glitches, and the user interface was often dysfunctional with contrasting Windows-like whites. Regardless of how many times I sincerely tried, I was never able to do coding for long on Linux. However, in Mint XFCE, Geany is very stable, the user interface matches the desktop environment, and I quickly found myself to be very comfortable coding new website articles (like this one).
And this is precisely what I had been searching for; a Linux distro that I can do everything that I want to do, and to do it comfortably, quickly, and productively. I am already anxious to wipe my offline computer's Windows and to install Mint XFCE. As soon as I finish some documents that require Word® 2010, I will finally be able to permanently say bye-bye to everything Windows. Mint XFCE really is that good.