In The News
William James Sidis Violent Not Smart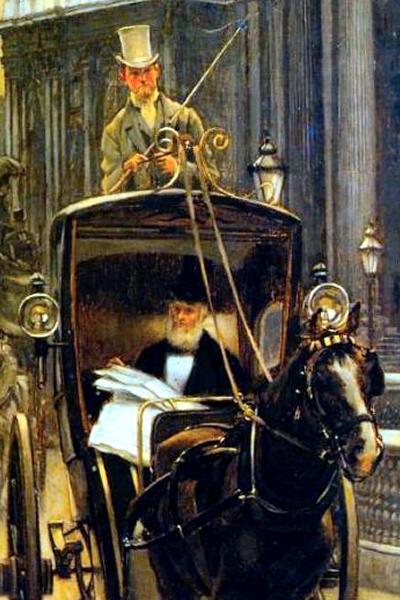 (PD) James Tissot - Going to Business - In The News
Copyright ©2021 - June 27, 2021
---
Many individuals still claim that William James Sidis was the smartest man on earth. From the same article: "Boris Sidis was said to have scoffed at intelligence tests. Is it not curious that Boris Sidis repeatedly boasted of his success in creating the prodigy William Sidis, and yet Boris Sidis chose to not speak of an intelligence score for William Sidis?"
If Boris Sidis was allegedly one of the world's leading psychologists of his day, then why did he value academic performance over mental health? Why did Boris Sidis focus on his son being able to read words rather than to focus on his son having a healthy mind? Did not Boris Sidis' actions prove that he was ignorant of the psychology of the mind? And why does psychology today continue to ignore mental health?
The following two newspaper articles from May of 1919 help to illustrate that William Sidis had some serious mental problems at the age of twenty-one, and there is no sensible scale whatsoever that is able to evaluate William Sidis as having had an intelligence beyond what is normal.
---
The Barre Daily Times, Barre, Vermont, Friday, May 2, 1919
HEAVY GUARD OF POLICEMEN
For Over One Hundred Men and Women Arrested in Boston Riot
ATTEMPT AT RESCUE WAS APPREHENDED
Several Policemen and People Injured in the Disturbance
Boston, May 2—Measures were taken by the police to-day to prevent a recurrence of the rioting of yesterday in the Roxbury district when more than 100 men and women were arrested in connection with red flag demonstrations. The routes over which the prisoners were transferred from the police station to the court house was carefully guarded in anticipation of possible attempts at rescue.
As soon as the prisoners reached the court house they were placed in the detention cells in the basement while preparations for their arraignment went on in the court room.
One of the prisoners said that be was William Sidis, who while a Harvard university student, attracted attention as the youngest student to receive a degree. He is a son of Dr. Boris Sidis, a phycopathologist [sic].
Up to noon five men had been arraigned charged with "taking part in an affray." Two of the number, Ernest Greenberg of Watertown and Arnold Janeton of Arlington, were found guilty and sentenced to serve two months each in the house of correction. The other three were discharged.
Three policemen and a civilian were shot, another officer was stabbed and a number of radicals were badly beaten when 300 policemen, aided by soldiers, sailors and civilians, fought with the crowd of several hundred radicals who attempted to parade after a May day meeting.
Following a meeting in the Dudley street opera house, the radicals filed in the street carrying red flags, wearing red buttons and flaunting radical literature. A number of women wore red dresses. Leaders could not produce a parade permit, and a policeman ordered them to disperse. He was greeted with hoots and pushed aside.
The police succeeded in breaking up the crowd and began taking out prisoners. These were loaded into patrol wagons and taken to station houses. The policemen held their guns on the radicals who threatened to rescue the prisoners. One officer held a gun on five men and said he would shoot the first one who attempted to escape.
The policemen ordered civilians with automobiles to help them carry off the prisoners. The radicals slashed the tires of one machine but its driver pulled out for the station house on flat tires.
Superintendent of Police Crowley became alarmed and notified the adjutant general's department that he might have to call on the state guard for help. An officer from the adjutant general's office went to Dudley street and found that the police had the rioters subdued.
STRAIN OF RIOT DUTY LED TO HIS DEATH
Capt. Hugh J. Lee of Boston Police Force Was Engaged in Trying to Check Red Flag Riot Yesterday.
Boston, May 2—Captain Hugh J. Lee of the Dudley street police station in whose district serious rioting occurred yesterday as a result of the display of red flags in a parade of radicals was found dead in bed at his home to-day. Death was said to be due to natural causes, although fellow officers were inclined to believe that the strain under which he worked during the disturbances was in a measure responsible.
New York Tribune, Saturday May 3, 1919
100 in Roxbury Court To Answer Riot Charge
William Sidis, Harvard's Boy Graduate, Held in Bail of $5,000; Five Sent to Jail
BOSTON, May 2.—More than 100 men and women appeared in the Roxbury Police Court to-day to answer to charges brought as a result of the rioting which accompanied a red flag demonstration in the Roxbury district yesterday. All pleaded not guilty. Five of those arrested yesterday had been released, and of those brought into court three were discharged.
Two men were sentenced to two months in the House of Correction for "taking part in an affray,'' and two others were given the same sentence for assault. A fifth, sentenced to one month for assault, appealed and was held in $800 bonds.
All the others were held in bonds varying from $500 to $5,000 on charges of rioting. The cases of twenty-one of the accused will come up for a hearing next Monday and the others on succeeding days.
The $5,000 bond was demanded for William Sidis, a son of Dr. Boris Sidis, a psycho-pathologist and well known on account of having been the youngest student to receive a degree at Harvard University. Patrolmen testified that Sidis carried a red flag in the demonstration.
Among those held in $1,000 bail were Martha Foley, who has been connected with woman suffrage activities, and Julia Rashman.
Three patrolmen and a bystander, injured during the rioting, were improving to-day. None was seriously hurt.
Captain Hugh J. Lee of the Dudley Street police station, in whose district serious rioting occurred yesterday, was found dead in bed at his home to-day. Death was said to be due to natural causes, although fellow officers were inclined to believe that the strain under which he worked during the disturbances was in a measure responsible.
---
The mention of Martha Foley is interesting because gossip has it that Martha Foley was allegedly the only girl that William Sidis was ever interested in. There appears to be a contradiction there: a woman who supported women's suffrage (right to vote) marching in a pro-socialist (pro-communist) riot. Is that not similar to the March For Science people who deny their own science, and the Global Warming protesters who live in big houses and use cell phones?
I have not yet found a definitive record of why William Sidis' bail was so high, but, apparently, the judge and others of the court viewed William Sidis as being a serious threat to society. At least through the 1960s — and even visible on television shows like Mama — the general public often interpreted Harvard University as being anti-American, anti-family, and just generally anti-everything decent. Similar to Thomas Edison's evaluations of individuals with college degrees, Harvard graduates were interpreted to be stupid, of no commonsense, and of no quality traits. At least one Harvard graduate, having recognized the effect of having attended Harvard, had made comments that their education had harmed their mind worse than "bad whiskey".
Regardless of the reasons of why William Sidis' bail was so high, it will forever remain obvious that Harvard, William James, and Boris Sidis all failed to teach William Sidis human values and rational thinking. The consequences are still negatively affecting people today.