Solus Linux Review July 2021
Solus Linux Screenshot - Excellently beautiful wallpaper by John McCormack
Copyright ©2021 - updated August 04, 2021
---
When I first tried Solus over a year ago, the first thing that caught my attention is that it's fast! It loaded fast and ran fast, faster than all other known desktop Linux® distributions except RAM-based Puppy.
The second item that caught my attention was the outstanding Budgie theming. A good scale of evaluating the quality of software is by how well the developers designed the UI: when developers care enough to create a balanced UI, then the software's coding itself will likely be similarly careful of accuracy. Case in point: Solus is good inside and out.
Recent tests of Solus have found it to still be fast while also being easier to use. In the previous tests, I had to reboot the computer after installing each program, but now the reboots are unnecessary. As a whole, Solus 4.3 feels more stable and crisp of function than earlier versions, as well as being more stable and crisp than all other tested distributions (featherweight Puppy being the sole possible exception).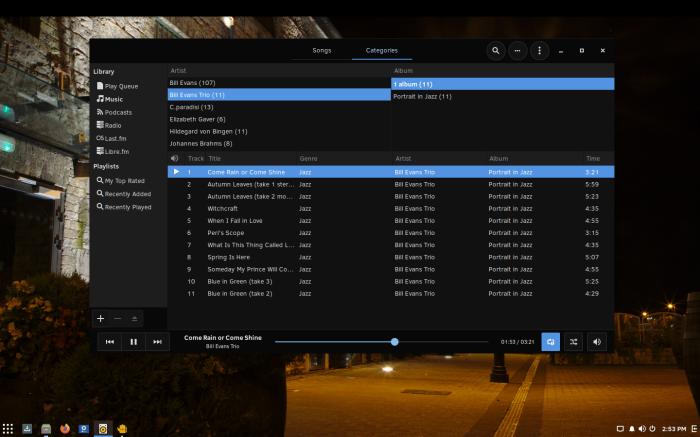 Solus Linux RhythmBox
Music! Gotta have it! RhythmBox does it! 'Nuff said!
And take notice of the transparent bottom panel. Solus' settings for the bottom panel include height, which is greatly appreciated by many of us.
Solus Linux Writer
The Libre Office suite comes pre-installed in Solus. Libre's Writer is the best quality word processor known for Linux, and is likely more than adequate to handle over 99% of all users' needs.
And right there is the one and only brick wall between me and full-time Linux: no word processor that is suitable for large documents. At present I have to have a word processor that can stably handle docs of thousands of pages and 800,000 to over a million words long, while also being capable of quickly searching for specific words and sentences. The one and only known word processor on earth that can handle files like that is Word® 2010. An individual can literally get more work done in about ten seconds with Word 2010's 'Find' column than what would require anywhere from ten minutes to ten hours on other word processors.
At one time I measured the differences of word processors, and the conclusion was that I saved a minimum of one hour a day using Word 2010 as compared to Linux word processors. 30 to 50 hours a month is a lot of life lost when using slow software.
The moral of the story is that the usefulness of an operating system is dependent on which programs the user needs. Aside from not being able to natively run Word 2010 with all functioning features on Linux, I know of no other reason of why Solus would not be a top choice for one's own full-time OS.
One Little Big Oops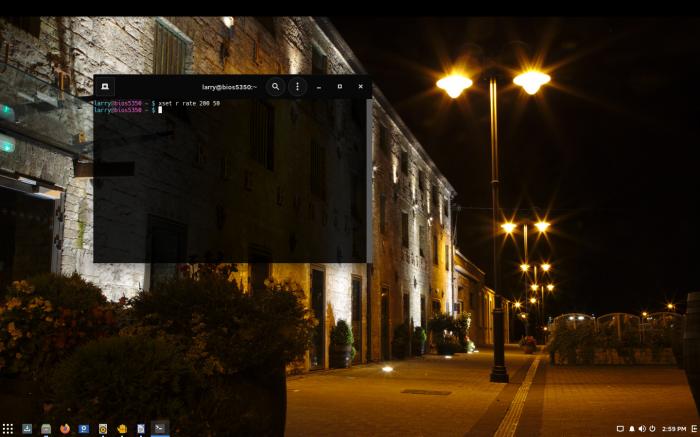 Solus Linux Terminal
One of the great things for keyboard users is Linux's ability to adjust the key delay and repeat rates for fast typists. The first time I tested Solus, I had to really search to find where the keyboard delay and repeat settings were, but I did eventually find them. During the present tests, however, I did not initially find the settings. It is easy to type [ xset r rate 200 50 ] into the terminal, but that only works for the current session. I also edited the xprofile as well as used gsettings commands, but still no joy when rebooting. I am not familiar with how Solus has its configs setup, so I am still in the learning process.
The folks on the Solus Forum were quick to answer my question about the keyboard repeat rates settings. Since some of the Solus menus might not appear to actually be menus, I will include some screenshots of how to access the keyboard repeat rate menu — as well as other menus — in Solus.
Solus Linux Settings
Right-click on the desktop, and then left-click on Systems Settings.
Solus Linux Accessibility Menu
Left-click on the Accessibility tab.
Solus Linux Repeat Keys Menu
Left-click Repeat Keys. My mistake was to assume that the link was merely an on-off setting; I didn't know that there was a menu underneath.
Solus Linux Keyboard Repeat Rate
The Repeat Keys settings will then pop-up. Numerous other settings are similarly found in other menus. My advice: if the user is unsure of how a menu functions, then click it and see what happens.
Big 'Un
For years I have looked for a good font that I could use with Linux. Most open source fonts are good for their intended purposes, but often not good for use in word processors. Everyone has different personal preferences, and mine had become fixated on Calibri as being the font of choice.
The absence of Calibri in Linux was one of the few reasons of why I was never able to use Linux full-time (putting Microsoft®-owned fonts on Linux would defeat the core purpose of my using Linux). Solus has the Clear Sans font pre-installed, which quickly caught my attention of how similar it looks to Calibri. Upon closer examination, Clear Sans is very, very similar to Calibri except being about 10% larger. Even better is that the Clear Sans font is from Intel/Apache, and not connected with MS/goo*. Large smiles on that one!
And there again, Solus passed the scales of weighing a program's worthiness relative to its UI.
Sum
I write notes when testing Linux distributions, and the following is one that was written while testing Solus: "And this is nice! I really like this! Everything so far has been really good! I'm impressed! Even the desktop background wallpapers are good! Wow wow wow, what a wonderful thing to see stuff that I like!"
In my own personal opinion for desktop use, Solus is #1 of appearances, speed, and over-all usefulness. Years back I used to recommend various distros to customers — usually antiX and Manjaro — but then Mint gained favor as being very good for users who do not have much knowledge of computers. Although I am slightly hesitant to recommend Solus to a newborn noob, I am of the opinion that Solus is stable enough and simple enough for inexperienced individuals, and too, what little that the new user might need to learn, would be of benefit to the user.
So yes, even if a person is fully new to Linux, I would still recommend Solus to be one of the first distros to try.