About LarryGowdy.com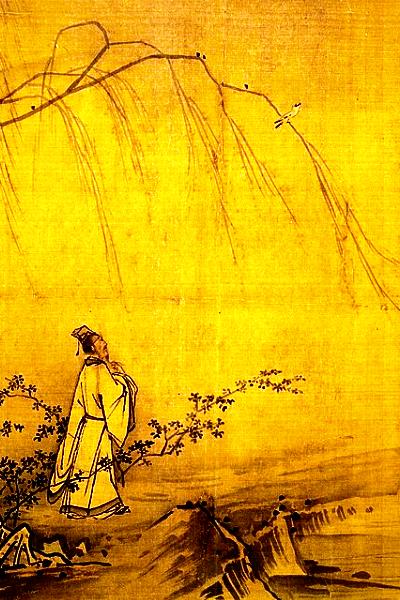 (PD) Ma Yuan Walking on Path in Spring
(Photograph enhancements by Larry Neal Gowdy.)
Copyright ©2019 August 03, 2018 - updated October 07, 2019
---
Links to Page Sections
---
Update December 24, 2019: Beginning with the first of the Xunzi articles, an important change of definitions of 'scholar' and 'teacher' will now be applied to all future articles. Usually, changes of interpreted definitions do not change enough to warrant an update, but the differences of past and present definitions of 'scholar' are much too important to disregard. Depending on available time and the severity of whether an existing article might need the updated definitions, existing articles may or may not be updated.
Update October 07, 2019: It appears that the Noto font is now more often included within Linux® distributions, and so I have added 'Noto Serif CJK TC' to the style sheet so as to enable an improved display of Chinese characters for Linux users. The 'WenQuanYi Micro Hei' and 'WenQuanYi Micro Hei Mono' fonts do function well, but render as Simplified Chinese instead of Traditional which is the far more desirable style (at least to me). I was (and still am) hesitant to use Noto because of its source, but Noto's CJK is said to have originated as Adobe's® Hans font, which would immediately be the favored choice if Hans were open to the public as well as being a default font in Linux distros. Nevertheless, since the Debian project (their being a respected standard for open source judgments) is reported to also approve of the SIL Open Font License that Noto is licensed under, then perhaps the use of Noto is acceptable.
---
About LarryGowdy.com
This is a hobby website, intended to be used for the personal enjoyment of creating new web pages that relate to my lifetime hobby of research. Some research topics can be finalized within weeks, some topics requiring a year or five, and sometimes the topics might require a decade or more to adequately investigate. For almost two years, the ancient Chinese texts have been my current interest, and though the research is winding-down, the two planned future projects are directly related, and ought to fit well within the current website.
Also, there are no known suitable English texts that speak of a logical dao (way). Nature is unchangeable, and since correct logic must use an unchangeable standard of judgment, then Nature is the one and only possible standard. To find a public writing of dao — any writing — that is logical, is very rare, but, some of the ancient Chinese writings are logical, and the efforts of research have been of value.
Individuals interested in 齊道 Chi Dao can email for more information.
About the Website Design


This website was given a modern theme to accompany the concept of Chi Dao being a modern English presentation. In time, the theme may be changed if/when another theme is felt to work better.
The site currently only uses the Arial, sans-serif, Times New Roman, times, and serif fonts for all English characters. Due to display incompatibility issues between different browsers and different operating systems, I have chosen to revert back to web-safe fonts where possible. If your computer or mobile device does not have the fonts installed, then you will see whichever default serif and sans-serif fonts that your device is capable of displaying.
The default paragraph font size is 16 pixels, which enables a better clarity of display for some Asian texts while also keeping English characters near a similar height as the Asian characters. Please adjust your browser's zoom if the text is too large or too small.
The Asian texts are currently coded for the MingLiU, Batang, and Microsoft® JhengHei fonts (depending upon which language is displayed), which appear to offer the best reproduction. Most all Windows users ought to see the non-English characters displayed correctly (or at least well enough). Linux® users might find the 'Han Serif TC Light' and 'Noto Serif CJK TC Light' fonts to work best (both are available from repositories).
The background image sizing has been coded to work smoothly on all known devices. The only known imperfection is within some Microsoft browsers changing the background image's size when the zoom is changed. The fix is relatively simple, but the fix causes other problems that are not simple. At present, the current background image coding is most suitable for the greater number of devices and browsers.
For several important reasons, for my own personal websites I usually only design pages to be viewed on desktop monitors and laptop screens. Due to the increasing popularity of desktops using very large monitors (and often at a distance), I have coded this site's pages to include improved viewing within narrowed browsers on large monitors, reduction of white space (for reducing eye strain), a soft blue background for individuals with conscious peripheral vision, and the smoother zooming of large text for visually impaired individuals (as well as for the distant monitors). Please adjust your browser's width, height, and zoom to best fit your own preferences. The features also support most mobile device displays as well (a display of at least 280 pixels of width is ample, but a minimum width of about 440 pixels provides a much better viewing experience).
The goal is to create a website that is safe, stable, loads quickly, ensures privacy, is usable by as many individuals as is reasonable, and provides for a good place that people can visit to find something interesting and useful to read.
Article Topics
At present, the initial aim is to only present articles related to 齊道 Chi Dao, which may include partial or full modern translations and analyses of several of the Chinese classics. Regardless of the topics chosen, all will focus on two cores: Nature is the sole and unchangeable standard of what is logical, and, how Nature's standard is applied.
The articles do not support nor follow any existing ideology. [Note: the word 'ideology' is used here within the classical definition of "...unpractical or visionary speculation; vain theorizing; the set of ideas, prejudices, etc., which determine the individual's general point of view or philosophy of life" (The Winston Dictionary - College Edition, Copyright© 1943, The John C. Winston Co., P.F. Collier & Son Corporation Publishers, New York.)] Most pages on this website make use of classic Chinese texts that are good examples of topics that do not fall under the categories of 'visionary speculations', 'vain theorizing', nor of 'a set of ideas that determine an individual's own point of view of life'. The articles are neutral relative to what an individual might hold for one's own ideology. Regardless of what ideology that an individual might follow, still, all thoughts and all life will still forever be dependent upon Nature's way, and the quality of the thoughts will always be dependent upon one's own quality of 齊道 chi dao.
Also, some of my old Nodin and William articles from The Logics website are being added. The articles' original text has not been changed beyond the formatting, plus the corrections of typos, and a change of synonym in #20. The Nodin and William articles illustrate parallel topics of what are found within ancient Chinese texts, as well as the articles presenting modern points of view of Chidao. Individuals who are familiar with Confucian texts and the Daodejing's 'Laozi' words will easily recognize numerous very close similarities within the old articles' words. Nature does not change, and what was correct twelve years ago, and three-thousand years ago, is still correct today.
The Alo and De dialogs are useful for individuals who learn best through casual conversations. Some people prefer videos, some people prefer plain text, some people prefer firsthand experience, and some people prefer conversations. The Alo and De dialogs help to express compressed ideas within expanded sentences that touch upon numerous topics simultaneously.
The 'Alo and De Xing #121' article had been written prior to #122, but the 'xing' topic had arrived where the topic would change and take a different direction. On April 07, 2019, I chose to lightly edit the 'xing' article and to place it online.
Also, it is useful to many individuals to share a similar background ambience of words, to know what the rhythm and tone was as the words were spoken, or written. Most all of the first Alo and De pages were written while listening to the music of Zenchantment's Huge Ocean Waves Crashing on Rocks, and sometimes to the music of Zen Garden Rain - Relaxation, Meditation, Mindfulness Pure Bliss. Article #85 used Zenchantment's Spiritual Oasis. Beginning with series #95, the pages were written with the background music of Altus' Daybreak. Beginning with series #114, the pages were written while listening to Altus' full 24 Hours album (especially Daybreak and Nightfall). All of the titles are easily found online with a search engine.
Privacy Statement
This website does not use tracking scripts, embedded fonts, JavaScript, advertisements, cookies, external ad links, analytics, downloaded fonts, external files, nor any other coding that can pose a security or privacy concern for the user. This website only uses HTML 4.01 Transitional and CSS coding, which are the safest, fastest, and most stable of website programming languages. Each page's coding is also typed by hand, which ensures that there are no unsafe scripts. The hosting server does collect URL addresses for use within the monthly statistics of visitors, but no one except me looks at the URLs, and I only give attention to the URLs if/when there is a URL causing excessive bandwidth or hits. I do not know who my visitors are, nor do I pry.
I do not collect, sell, rent, send junk email, nor in any way make use of a person's email except for my replying: private emails remain private, and I delete all emails that do not have an important reason to be kept.
How to Contact
Polite questions and comments are welcomed from visitors. The contact email address is Larry Gowdy at larrygowdy.com. The email address may be changed periodically to help lessen the quantity of bot junk mail.
Also please remember that it is unsafe for an individual to open attachments within emails, and, so, please avoid including an attachment within an email until after I can verify from whom the attachment was sent.
My primary computer is kept offline for security purposes, and so I may only check personal email on a different computer about once a week. Please be patient if I do not respond quickly.
About Copyrights
Unless stated otherwise, all texts and graphics used throughout this website are my own original copyrighted creations, plus foreign language quotes from public domain texts. Most all quoted public domain texts will have border lines on the left and right sides of the text.
This is an example of the borders and font size of where a public domain text is quoted. The font size may or may not be larger than normal so as to better display non-English characters.
I retain all legal rights to the web design and all personally created content and use. 齊道 Chi Dao is the title of my own writings, not the translations nor the commentaries of other books.